As dentists, we are always looking for a balance between functionality and the aesthetic. Dental procedures are always conducted in a manner that provides the best outcome for the patient in terms of function while ensuring that the end result is pleasing to the eye. Cosmetic dentistry refers to procedures performed with a singular aim to improve the appearance of the tooth, or teeth, in question. While some procedures are exclusively cosmetic, such as teeth whitening, many of the cosmetic services we provide benefits to the appearance as well as the health of the tooth itself.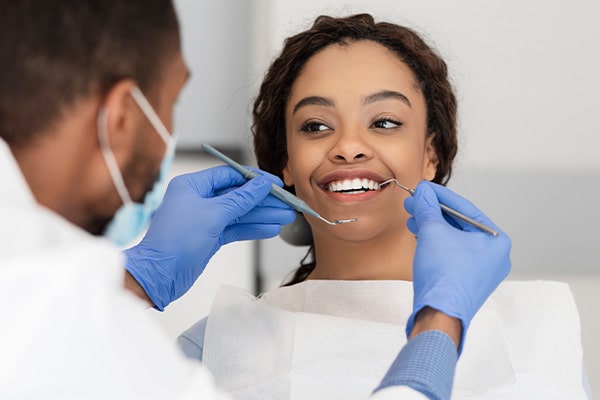 A good example of a therapeutic and cosmetic service is root canal therapy. When a tooth is infected, your dentist may need to perform a tooth extraction unless the tooth can be saved with a root canal. Conducting this procedure requires access to the inside of the tooth, so an opening will be made in the tooth to allow the dentist to access the dental pulp within it. Once inside the tooth, your dentist will remove all blood and nerve tissue from the chamber of the tooth before disinfecting it. Once the tooth is free of bacteria, a filler is applied to occupy the cavity – it is a rubbery substance called gutta percha.
Once the gutta percha has gone into the hollow of the tooth, the tooth will need to be closed with filling material or a crown. In most cases, your tooth will require a crown to seal the inner tooth and protect the compromised tooth structure from breakage. And while crowns may be considered cosmetic, without a crown, a root canal could not be completed successfully.
We can't wait to see your dazzling smile!
When you lose a tooth, you may decide to replace it on your dentist's advice, but it's unlikely you'll need much convincing. Missing teeth can lead to judgment, or they can lead to a patient not wanting to engage in social groups and hiding their smile. A tooth replacement can do a lot for the confidence of the individual, and for singular losses there are typically two options: bridges or implants.
A bridge can be installed where there are healthy teeth on either side of the gap. These teeth will be covered by crowns which are both attached to the false tooth that will sit between them (bridging them). The restoration materials used in this procedure are durable and not vulnerable to staining or decay, but it is important to continue including it in your daily brushing in order to keep the gums around it clean and healthy.
A dental implant is a more long-term solution to tooth loss than a bridge, but it is more invasive. Dental implants use a titanium screw as a false root. The screw is installed in the jawbone where tiny pores and threads will begin to bond with it. After approximately six months, a false tooth can be added.  Implants are not only visually pleasing and discrete, but they are also the best known method of maintaining bone tissue in the jaw where teeth have been lost
If it's a more durable product you seek, veneers might be the right fit for you. Rather than apply coats of product (as in bonding), veneers are custom made shells made to be adhered over a natural tooth. Veneers totally resurface the tooth, and whether you need one or ten, the result will be a beautiful natural looking smile.
For patients who want to conceal imperfections, chips, and breaks and gaps between teeth, your dentist may recommend bonding or veneers.
Bonding refers to a tintable, paintable resin that is applied to the surface of the teeth in thin layers. Bonding resin can also be built up to reshape a broken tooth. Bonding is popular for concealing discolouration
If you are looking for a way to correct the alignment of your teeth without the aesthetic of all the metal that comes with traditional braces, you may be a candidate for Invisalign® therapy. This orthodontic system uses thin, clear aligners which are clipped over the teeth throughout the day. These aligners are virtually invisible and allow you to do away with the painful adjustments that often accompany a more traditional approach. Invisalign® requires regular brushing after meals, but the system does not place any restrictions on your diet. With no wires or brackets to break you can continue to enjoy the foods you love while achieving the smile of your dreams. If you think Invisalign® might be right for you, book a consultation with your dentist. A 3D digital scan of your teeth will facilitate a discussion about the potential outcomes.
For questions about this or other services offered by our general dentist, contact our clinic today